One Bowl Maple Cinnamon Banana Bread
This Maple Cinnamon banana bread is perfectly moist and full of coffee, cinnamon, and maple syrup flavors with an incredibly soft crumb.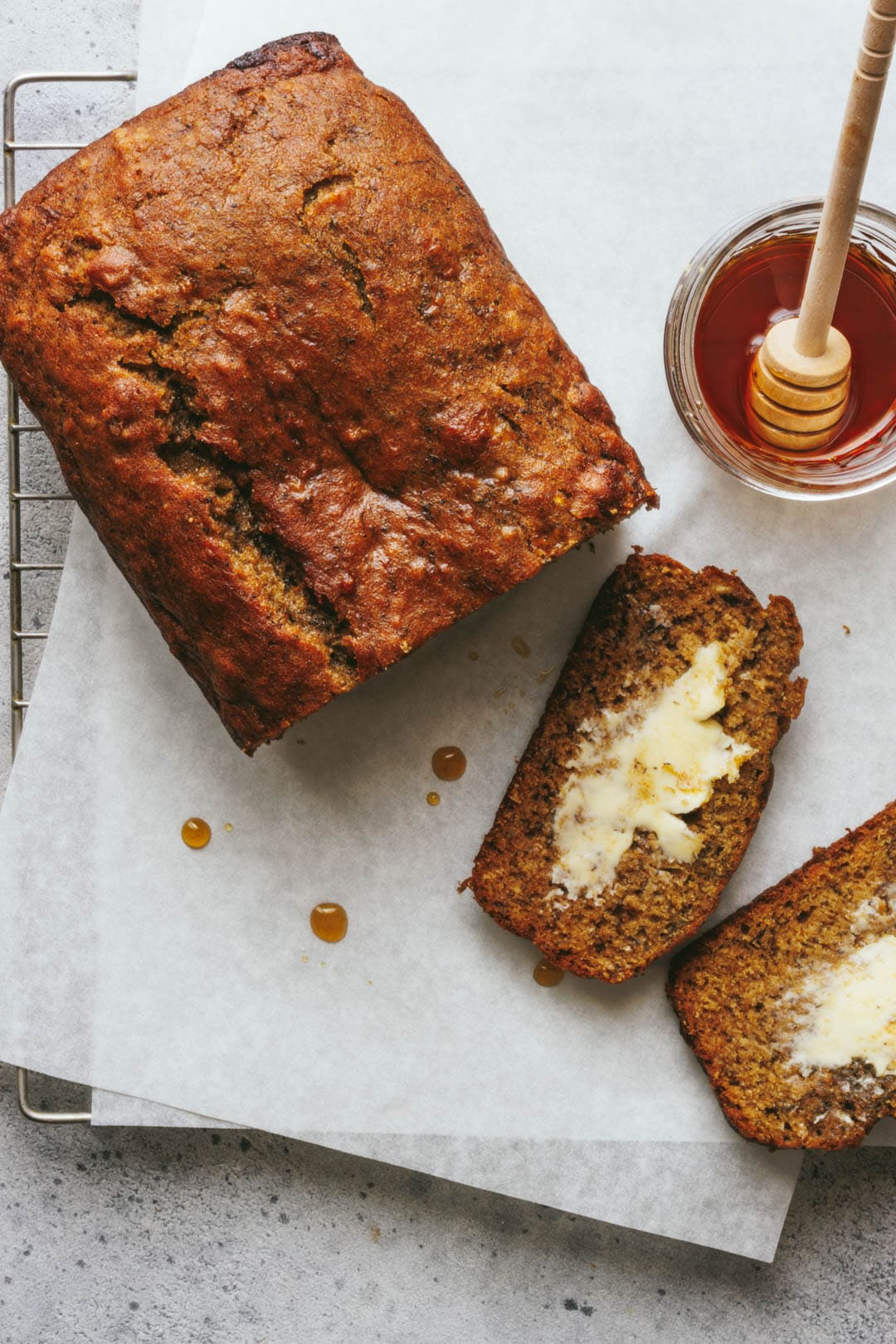 This is not the type of banana bread that towers over the top in grand gesture. It is unassuming and appears like any other banana bread you've had. I assure you it's not.
It is relatively simple to make banana bread. Though, I argue making exceptional banana bread is not as easy. Banana bread is often too moist, too dense, too greasy, or too dry. Edible? Of course. No one ever complains about banana bread. But when the banana bread is exceptional? That's when the compliments start rolling in. That's when it's life-changing.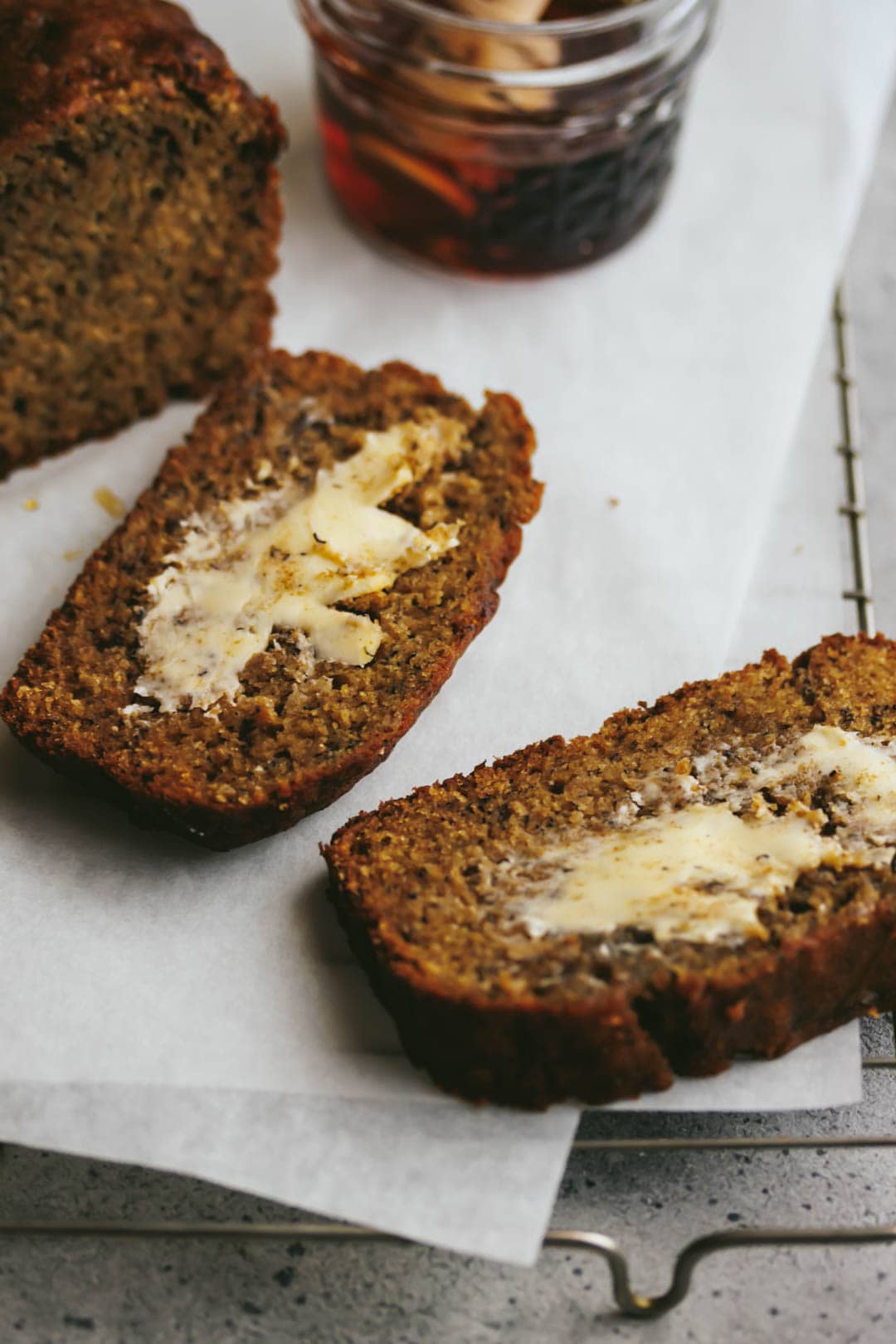 Every time I share a slice of this banana bread with anyone, they always comment that it's on-point. I always nod and say, yes, I know. While I smile gratuitously and offer another slice (or half the loaf), I think about the years it took me to get the proportions just right. It's about the perfect ratio of flour to oil to mashed bananas, where the loaf is moist and fluffy. The outer parts of the banana bread don't get too dry before the interior bakes. The texture melts in your mouth with every bite. Dare I say, this is the only banana bread recipe you'll ever need.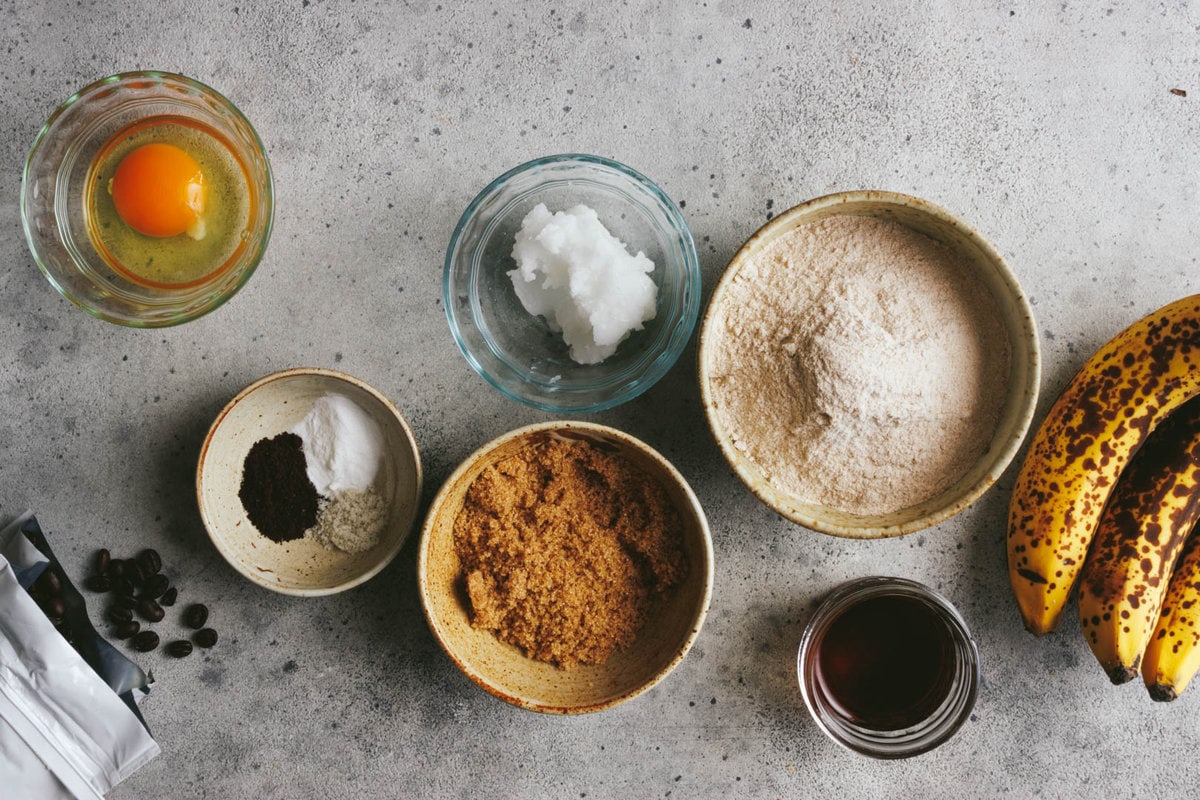 Cinnamon and coffee always go together, and then the addition of maple syrup and bananas make a flavor bomb, yet no flavor overpowers the next. The result is a perfectly moist banana bread that is full of coffee, cinnamon, and maple syrup notes. Think of it as a specialty coffee description, in banana bread form.
HOW TO MAKE MAPLE CINNAMON BANANA BREAD
Mash the bananas in the bottom of a large bowl.

Add the egg and whisk to combine.

Add the brown sugar and maple syrup and whisk to combine.

Add the cinnamon, freshly ground coffee beans, baking soda, and salt and whisk to combine.

Fold in the flour mixture and gently mix until only a few lumps of flour remain.

Pour the batter into the prepared loaf pan.

Bake until a cake tester comes out clean. Let cool and enjoy with pat of butter and a sprinkle of Kosher salt.
POSSIBLE SUBSTITUTIONS AND ADDITIONS
WHOLE WHEAT FLOUR. Feel free to use all-purpose flour or a 50:50 mixture of all-purpose flour and whole wheat flour.
COCONUT OIL. Vegetable oil works great.
MAPLE SYRUP. I don't recommend substituting honey for maple syrup as honey browns faster than maple syrup and it may cause the loaf to burn. Proceed with caution if going this route.
COFFEE GROUNDS. Feel free to skip altogether!
CHOCOLATE CHIPS. Adding chocolate chips is up to you! I don't like the combination of chocolate and bananas but if you like it, go for it!
Maple Cinnamon Banana Bread: Frequently Asked Questions
How ripe should bananas be for banana bread?
Use bananas with lots of brown and black spots. Do not use yellow bananas or unripe bananas. To help bananas ripen, put the bananas in a paper brown bag and fold the top closed; bananas ripen in a day or two.
Can I use frozen bananas?
Make sure to thaw frozen bananas to room temperature, and let the bananas drain in a sieve (don't push down on the bananas) for several minutes to avoid adding too much liquid to the batter.
What type of coffee grounds should I use?
Use whichever type of coffee you enjoy drinking (decaf or regular). I enjoy coffee from Central America, such as Guatemala and Costa Rica, in particular.
How do I know when the banana bread is done?
Insert a cake tester or toothpick in the center of the loaf comes out clean.
How do I store banana bread?
Wrap the cooled – not the least bit warm- banana bread in plastic wrap or place in an air-tight container for up 5 days at room temperature.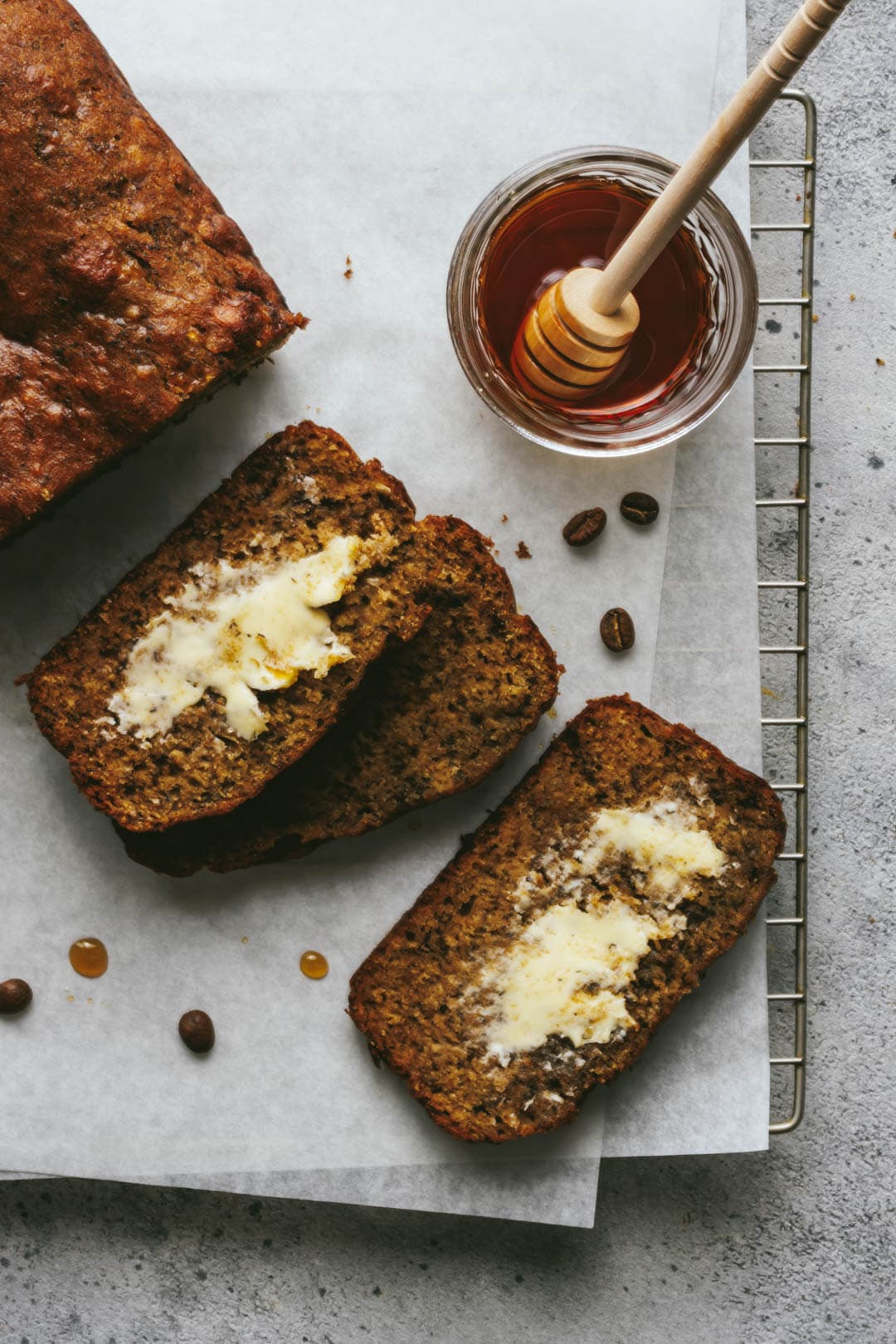 TROUBLESHOOTING BANANA BREAD
WHY IS MY BANANA BREAD NOT MOIST? This often occurs when there isn't enough oil or too much flour. Measure the flour using the spoon-and-sweep method and make sure the coconut oil is fully melted when measuring.
WHY IS MY BANANA BREAD DENSE AND HEAVY? Often, this is a result of too much moisture. Make sure to measure the mashed bananas in a measuring cup or use a weigh the peeled bananas using a scale before mashing. Since not all bananas are the same size, there is a high likelihood that you will need to adjust the amount of bananas you use to obtain 1 cup mashed bananas. Also, use the spoon-and-sweep method for measuring flour to ensure the correct ratio of dry and wet ingredients.
WHY IS MY BANANA BREAD GUMMY? This is often due to over-mixing the batter after you add the flour. Gently stir in the flour until only a few lumps remain.
More Morning Baked Goods to Try
Print
One Bowl Maple Cinnamon Banana Bread
This Maple Cinnamon banana bread is perfectly moist with an incredibly soft crumb and full of coffee, cinnamon, and maple syrup flavors.
Author:
Prep Time:

15 minutes

Cook Time:

40 minutes

Total Time:

55 minutes

Yield:

8

slices

1

x
Category:

Bread

Method:

Bake

Cuisine:

American
1.5 cups

(

281g

) mashed, very ripe bananas, about 2.5 large bananas

1

large egg

1/3 cup

(

65g

) melted coconut oil

1/3 cup

(

65 grams

) light brown sugar

1/4 cup

(

60g

) maple syrup  

1 teaspoon

baking soda

1/2 teaspoon

Kosher salt

1 teaspoon

ground cinnamon

2 teaspoons

finely ground coffee, fresh ground preferred

1 1/4 cups

plus 2 tablespoons (

180 grams

) whole-wheat flour*
Instructions
Preheat the oven. Adjust the oven to the middle rack of the oven. Preheat oven to 350°F (180°C). Butter and l

ine a 9×5″ loaf pan with a sheet of parchment paper, extending up two sides, forming a "sling" for your bread. The parchment paper makes it easy for you to remove the bread and slice it later.

Mash the bananas. In a large bowl, mash the bananas using a large fork or potato masher until small lumps remain. Note: If you didn't use a scale to weigh the bananas before mashing, scoop the mashed bananas into a measuring cup to ensure you have 1.5 cups mashed bananas. Eat any leftovers that didn't fit into the measuring cup and mash more banana if you don't have enough to fill the measuring cup.
Add the wet ingredients. Add the egg to the mashed bananas and whisk together until fully combined. Then, add the coconut oil and whisk again until fully incorporated. Make sure there is no oil separated from the batter. 
Add the sugars and coffee. Whisk in the brown sugar until combined, followed by the maple syrup and coffee.
Add the dry ingredients. Add the baking soda, Kosher salt, cinnamon, and coffee grounds to the banana mixture and whisk until combined. Then, add the flour and fold the flour into the wet mixture until just blended.
Bake. Pour the batter into the prepared pan and spread evenly. Bake until the toothpick inserts into the center of the loaf comes out clean, about 40 minutes.
Serve. Let cool 20-minutes in the pan, then use the parchment paper to help lift the loaf out of the pan and cool completely on a wire rack. Serve with butter, if desired.
Notes
WHOLE WHEAT FLOUR. If you opt to measure by volume instead of weight, whisk the flour first to aerate it, then spoon into a measuring cup, and then level it off with the back of a knife. 
Nutrition
Serving Size:

1 slice

Calories:

228 calories

Sugar:

14.4g

Sodium:

318mg

Fat:

10.1g

Saturated Fat:

8.1g

Carbohydrates:

32.8

Fiber:

3.4g

Protein:

3.7g

Cholesterol:

23mg