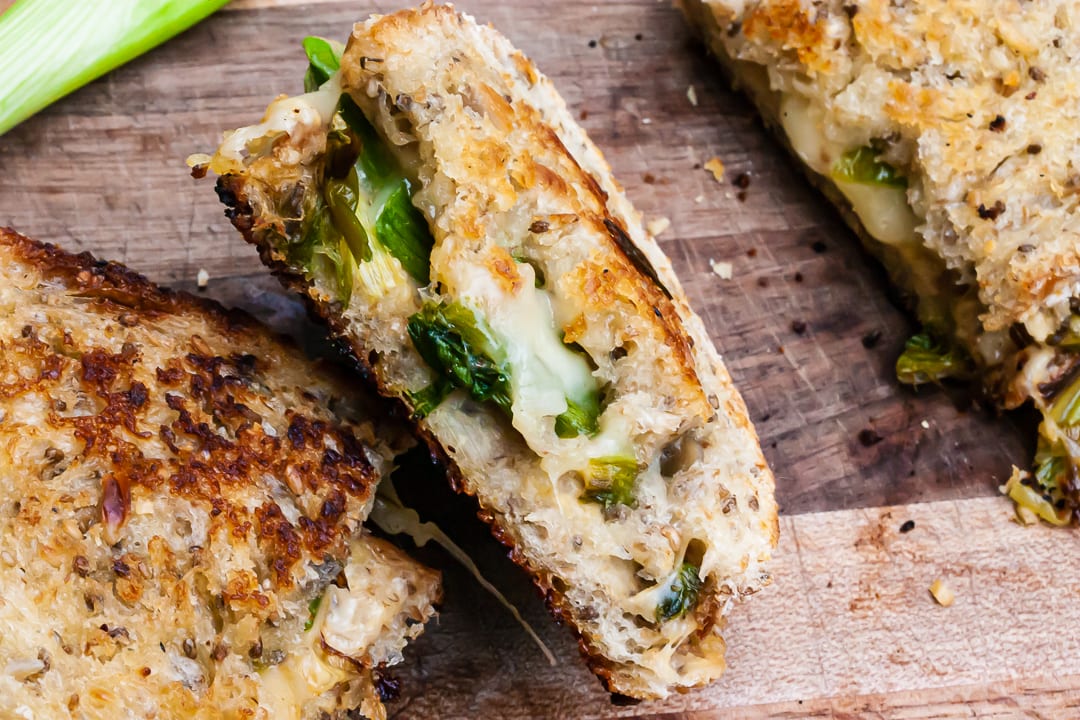 I created this Spring Grilled Cheese sandwich after a series of unrelated, everyday occurrences. A light bulb went off in my head, and I knew exactly what to make this time of year.
OCCURRENCE #1. My mom makes the best grilled cheese sandwiches, hands-down. She contests that the key is a good melting cheese, and I think her technique is also essential to obtaining a perfectly crisp, gooey grilled cheese sandwich.
OCCURRENCE #2. A few years ago, my neighbor left spring onion bulbs from his garden in front of my front door and told me to plant them. He explained how they pop up in the spring and are a welcomed ingredient as the weather starts getting warmer. He was right. Everyone should find a place to plant spring onions.
OCCURRENCE #3. Well, technically two moments. I always admired Ashley Rodriguez's recipe for Grilled Cheese with Charred Scallions and Joshua McFadden's Charred Scallion Salsa Verde from Six Seasons: A New Way with Vegetables (affiliate link) looks equally enticing.
OCCURRENCE #4. This year in the Midwest, we have drastically swinging temperatures and it's hard to keep up. This grilled cheese sandwich makes it easy.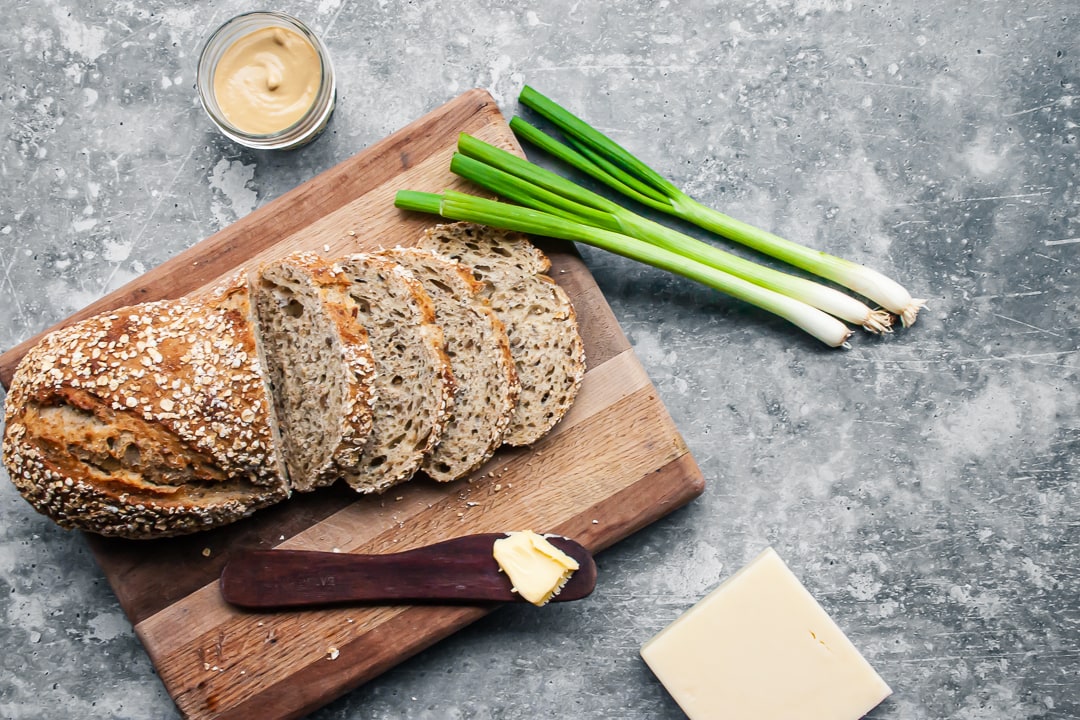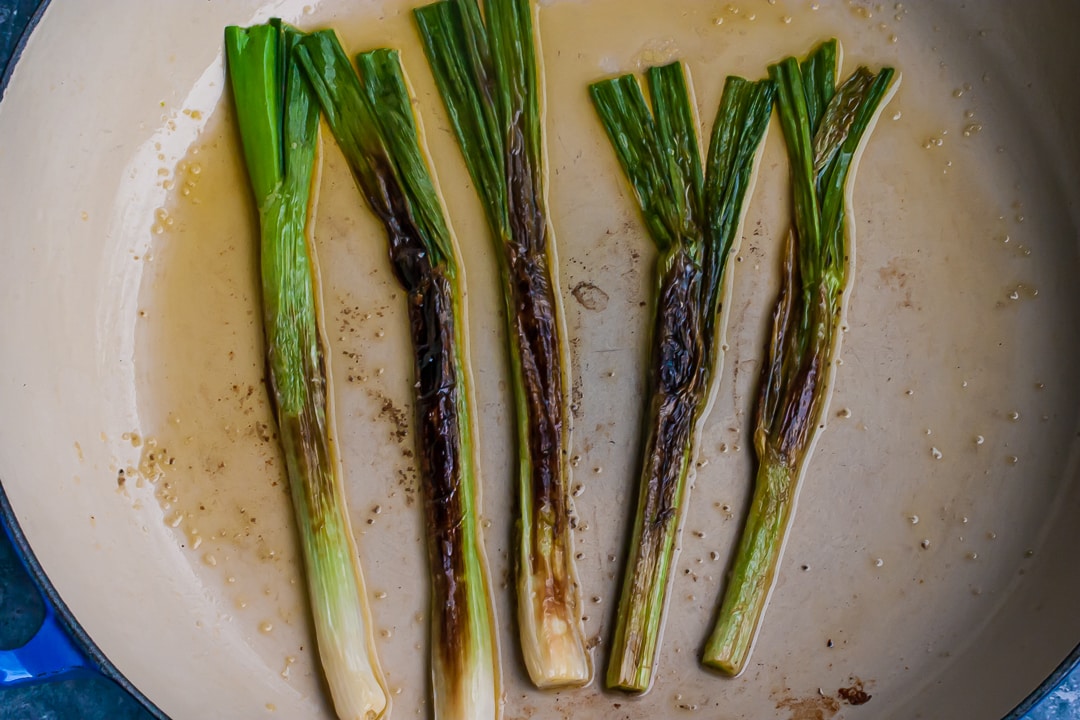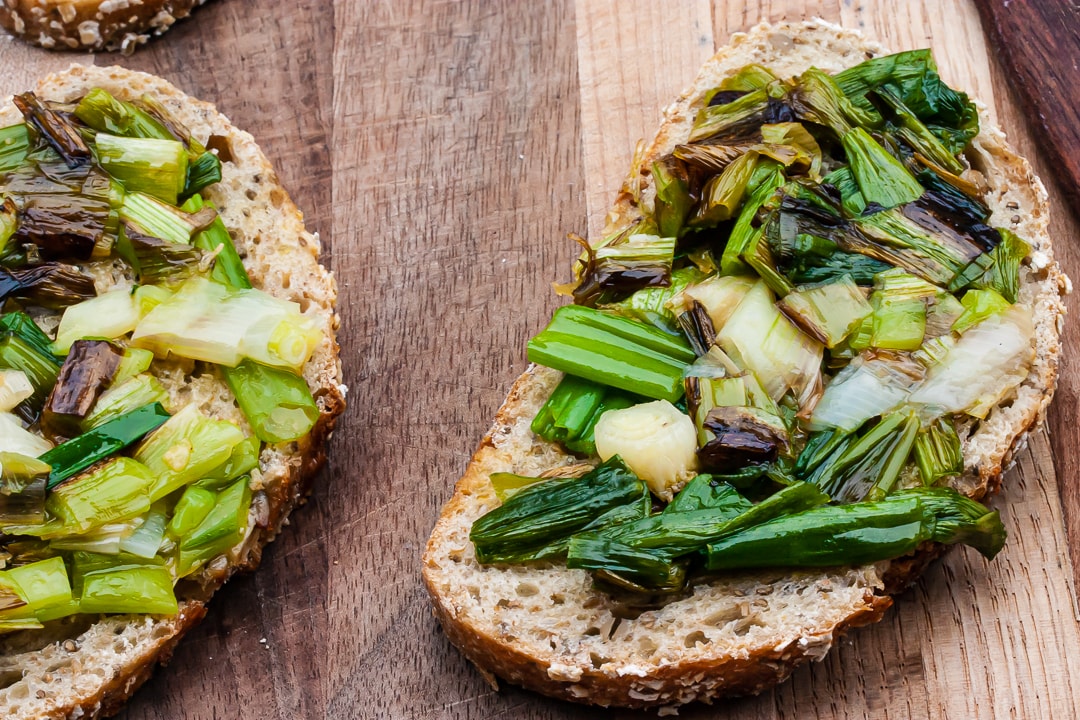 Scallions are the underdogs. They are the vegetable that gets overlooked in the springtime in favor of asparagus, radishes, and greens. They are, quite frankly, considered a year-round vegetable. Yet, there is something special about being able to pick green onions straight from the ground in the spring and searing them in a pan to make them delightfully charred and sweet. Then take them a step further, and combine them with aged white cheddar cheese and dijon mustard to create a warm, ooey-gooey grilled cheese sandwich. Is your mouth watering yet? Mine sure is.
FLAVOR BOOSTERS: WAYS TO ELEVATE THIS SPRING GRILLED CHEESE WITH CHARRED SCALLIONS
HERBS. I've been reading seasonal cookbooks lately, from Ruffage: A Practical Guide to Vegetables (affiliate link) to Six Seasons: A New Way with Vegetables (affiliate link), and all of the authors reminded me adding herbs is always welcome. Dill is a lovely addition to this sandwich, as is parsley. Feel free to experiment depending on what herbs you have on hand.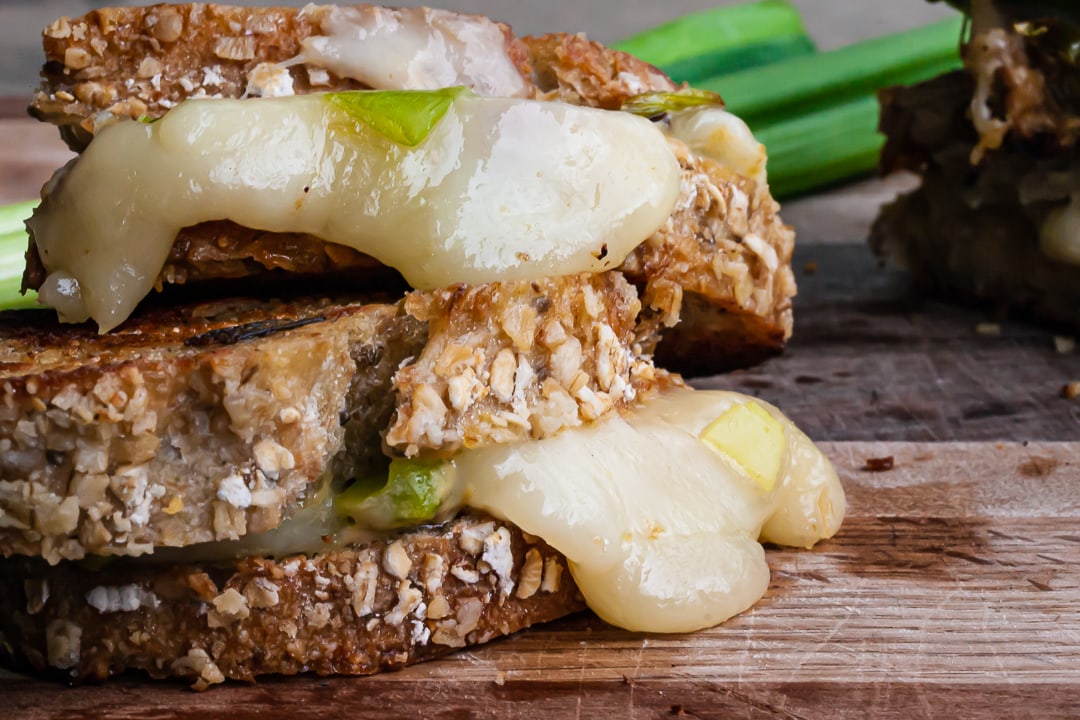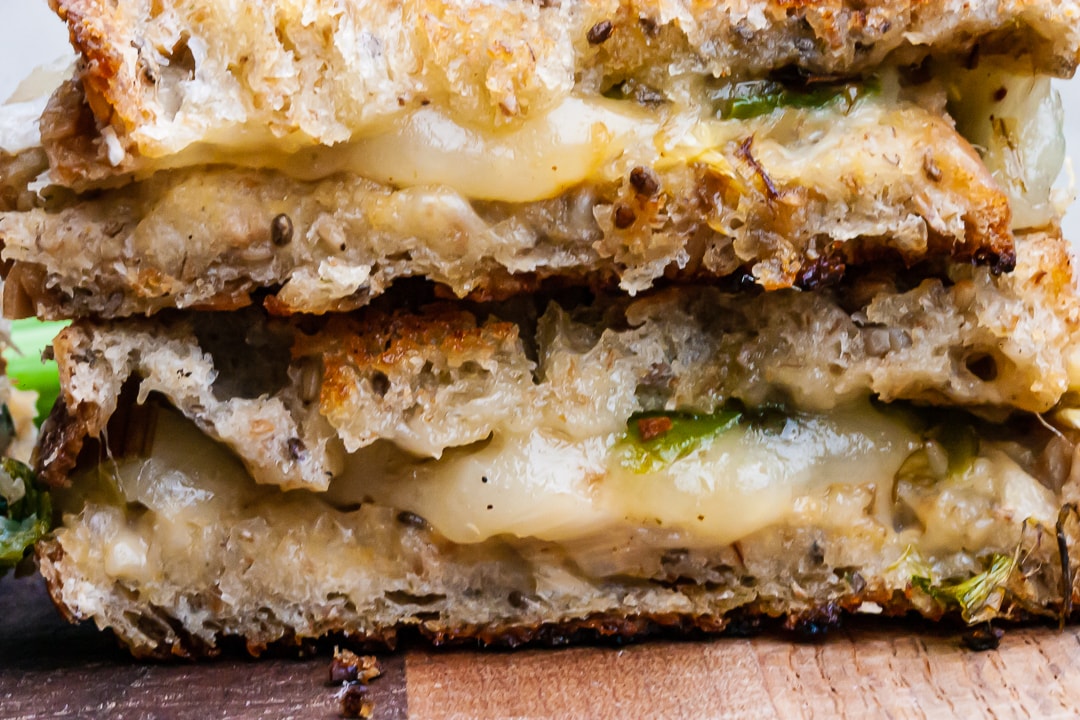 POSSIBLE SUBSTITUTIONS
AGED WHITE CHEDDAR CHEESE. This sandwich has bold flavors and thus needs a bold cheese to stand up to them. Otherwise, you risk tasting one ingredient over the others. In place of Aged White Cheddar Cheese, Aged Yellow Cheddar, Havarti, or Gruyere are excellent choices for melting purposes and taste.
DIJON MUSTARD. Not a mustard fan? Feel free to substitute dijon mustard for mayonnaise or leave it out.
WHOLE GRAIN BREAD. I used a hearty, wholegrain bread in this recipe, and white bread also works wonderfully.
MORE SPRING-INSPIRED RECIPES
Print
Spring Grilled Cheese with Charred Scallions
This Spring Grilled Cheese is packed with bold flavors; aged cheddar cheese, smokey charred scallions, and a little dijon mustard round out the sandwich. Add on a perfect technique, and you get a crispy brown, ooey-gooey, spring-filled sandwich every single time. 
Author:
Prep Time:

5 minutes

Cook Time:

15 minutes

Total Time:

20 minutes

Yield:

1

sandwich

1

x
Category:

Sandwiches

Method:

Stove Top

Cuisine:

American
olive oil

3

scallions, trimmed, including 1/2-inch from the top
kosher salt for sprinkling

1/2 tablespoon

(

7g

) butter, softened
Two square deli slices or 2, 1/4-inch x 2-inch, brick-cheese slices (56g) aged white cheddar cheese

1 teaspoon

dijon mustard, more or less to taste

2

thin slices of sandwich bread 
Instructions
To make the charred scallions:
Heat a glug of olive oil in a 10 – 12-inch, heavy-bottomed skillet over medium-high heat. Add the scallions in a single layer (if tripling the recipe, cook them in batches if necessary). Season the scallions with a sprinkle of salt. Place another heavy pan on top of the scallions to press them down. After 30 seconds to 1 minute, lift the heavy pan and flip the scallions to the other side. Place the heavy pan back on the scallions and cook until the other side is charred, about 30 seconds to 1 minute. 
Once the scallions look charred and limp, remove the scallions from the pan, and place them on a cutting board to cool. Once cooled, chop them up into 1/4-inch pieces. 
To assemble the grilled cheese sandwich:
Spread the bread sides that will form the outsides of the sandwiches with softened butter. Spread the chopped, charred scallions onto the inside of one half of the sandwich and top with cheese. Spread the inside of the other half of the sandwich with dijon mustard. Place this half, mustard-side down, on top of the scallion and cheese mixture. 
To cook the sandwich:
Wipe out the skillet you used to cook the charred scallions, and heat the skillet over medium heat. Once the pan is heated, about 4 minutes, reduce the heat to medium-low and place the sandwich in the skillet. You should hear a sizzle when placing the sandwich on the skillet. Cover the skillet with a lid. Remove the lid and flip the sandwich once the underside has a rich, golden brown color, about 4 minutes. Once flipped, cover the skillet with the lid again and cook for another 4 minutes.
Remove the sandwich from the pan onto a plate or cutting board when both sides have a deep golden color and cheese is completely melted. Cut the sandwich in half and enjoy! 
Notes
This recipe is inspired by Ashley Rodriguez's recipe for Grilled Cheese with Charred Scallions and Joshua McFadden's Charred Scallion Salsa Verde from Six Seasons: A New Way with Vegetables (affiliate link).
SERVING SIZE. I wholeheartedly acknowledge this may be a grown-up grilled cheese, which is why this recipe serves 1 and can easily be scaled up to fit your needs. The best part? This recipe is as much as a recipe as a technique. If you skip the scallions and mustard and stick with the cheese, you have the best classic grilled cheese sandwich ever. 
Nutrition
Serving Size:

1 sandwich

Calories:

338 calories

Sugar:

1.8g

Sodium:

671mg

Fat:

18g

Saturated Fat:

12g

Carbohydrates:

14.4g

Fiber:

1.6g

Protein:

16.3g

Cholesterol:

75mg
Keywords: Spring Grilled Cheese, Charred Scallion, Grilled Cheese Sandwich