A cookie that tastes like a candy bar, in the best way possible. These Andes Mint cookies are soft, chewy, and melt in your mouth with every bite. Bet you can't just have one.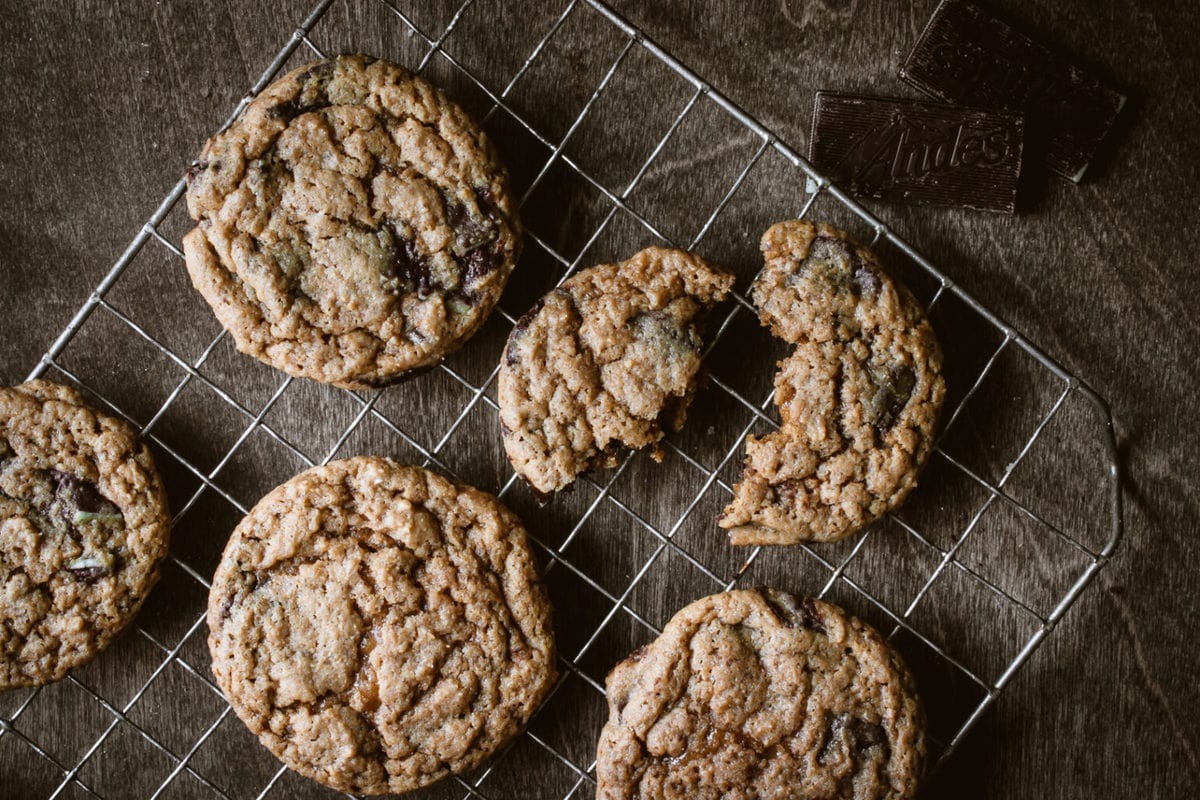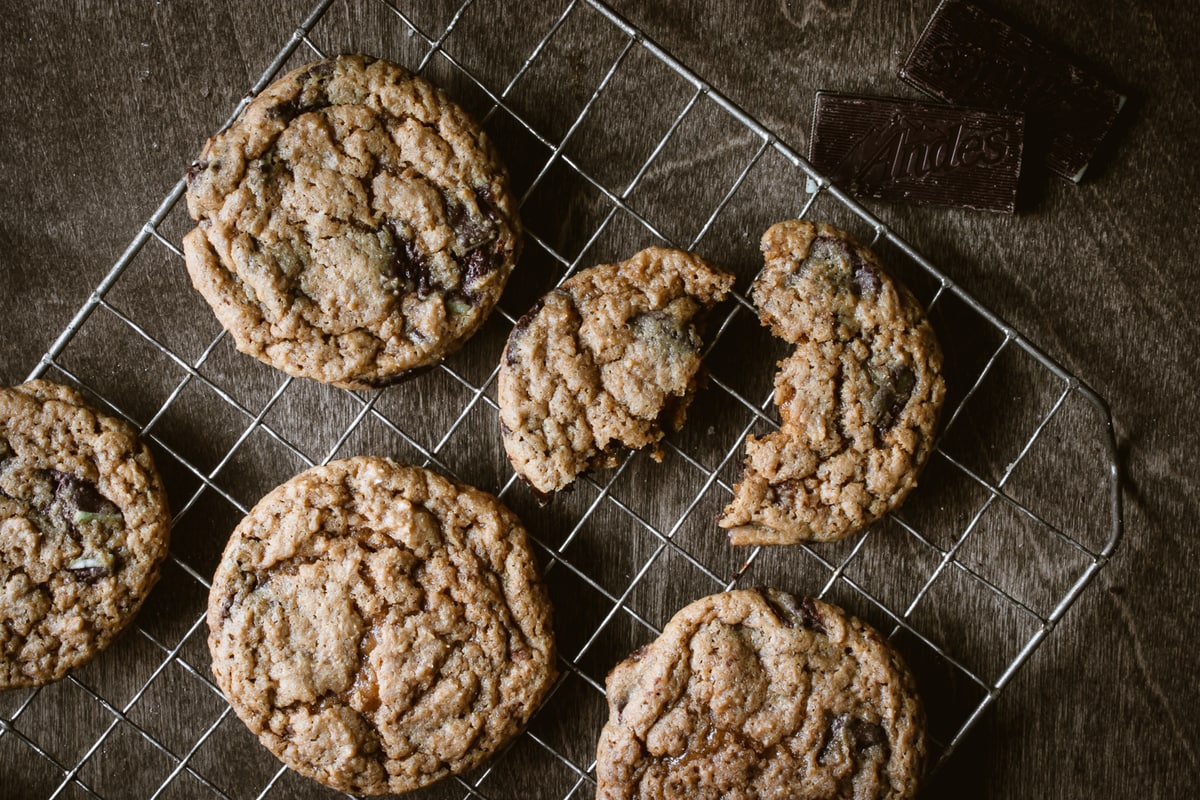 The first time I made Andes Mint cookies I didn't actually use Andes Mints. No, I went out and bought fancy and luxurious mint chocolate and tried to pass them off as Andes Mint cookies.
This obviously didn't work. Rather, I brought them to a party and endured an explanation of what Andes Mints are and where they are located in the grocery store. As if I've never heard or tasted them in my life. You see, I grew up with Andes Mints, as my Grandma always had them on hand, neatly arranged on her buffet table, ready to be eaten at a moment's notice. And that's exactly what I did.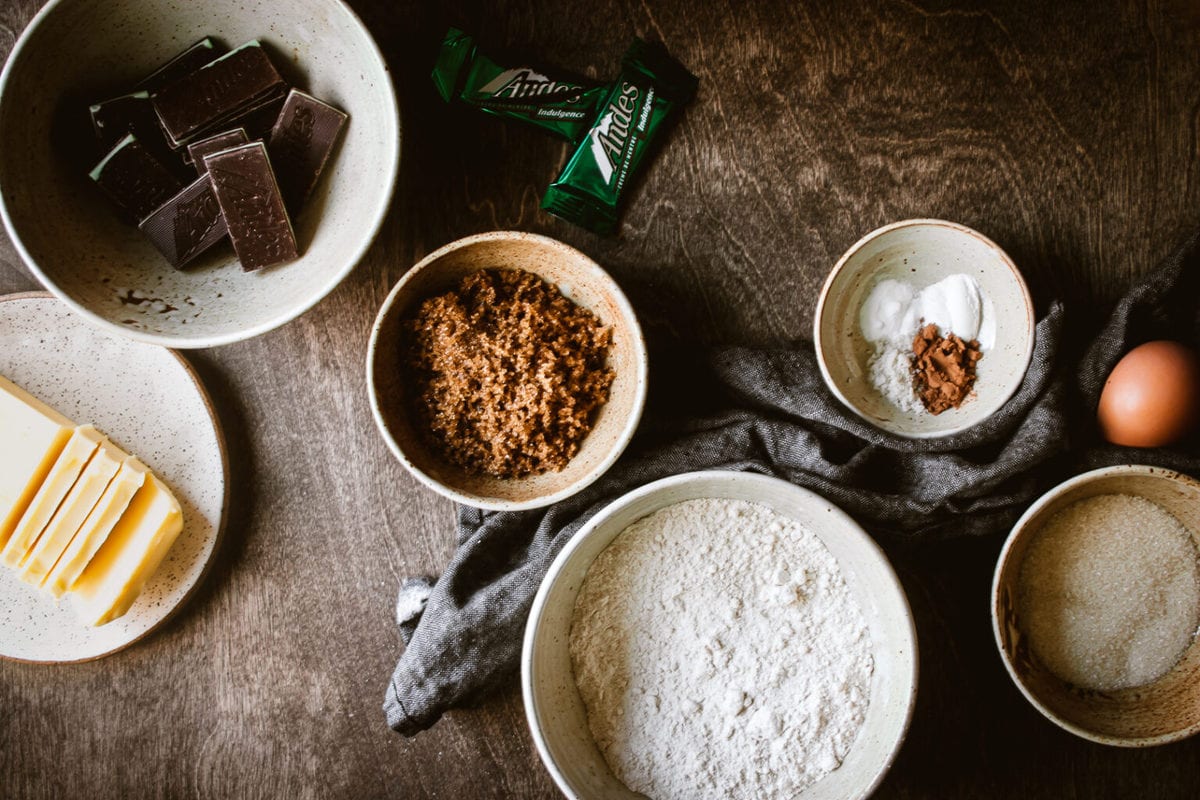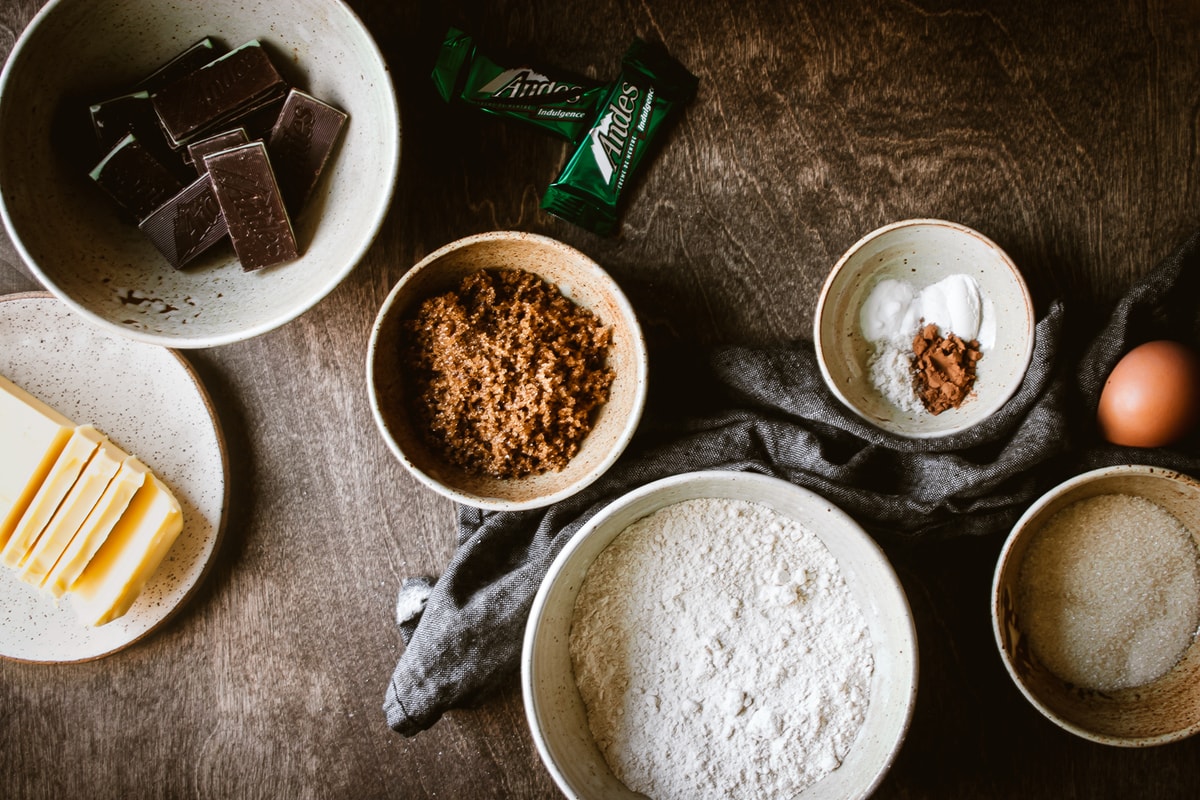 To confess, I hate relying on specific candy brands in baked goods. It seems a little too much "sugar on sugar" for my liking. "Why don't we take something processed and sweet and make it sweeter by dumping it in a cookie batter?" I say. And no, you can't make homemade Andes Mint candy in a respectable amount of time and emulate the real thing. I've already tried.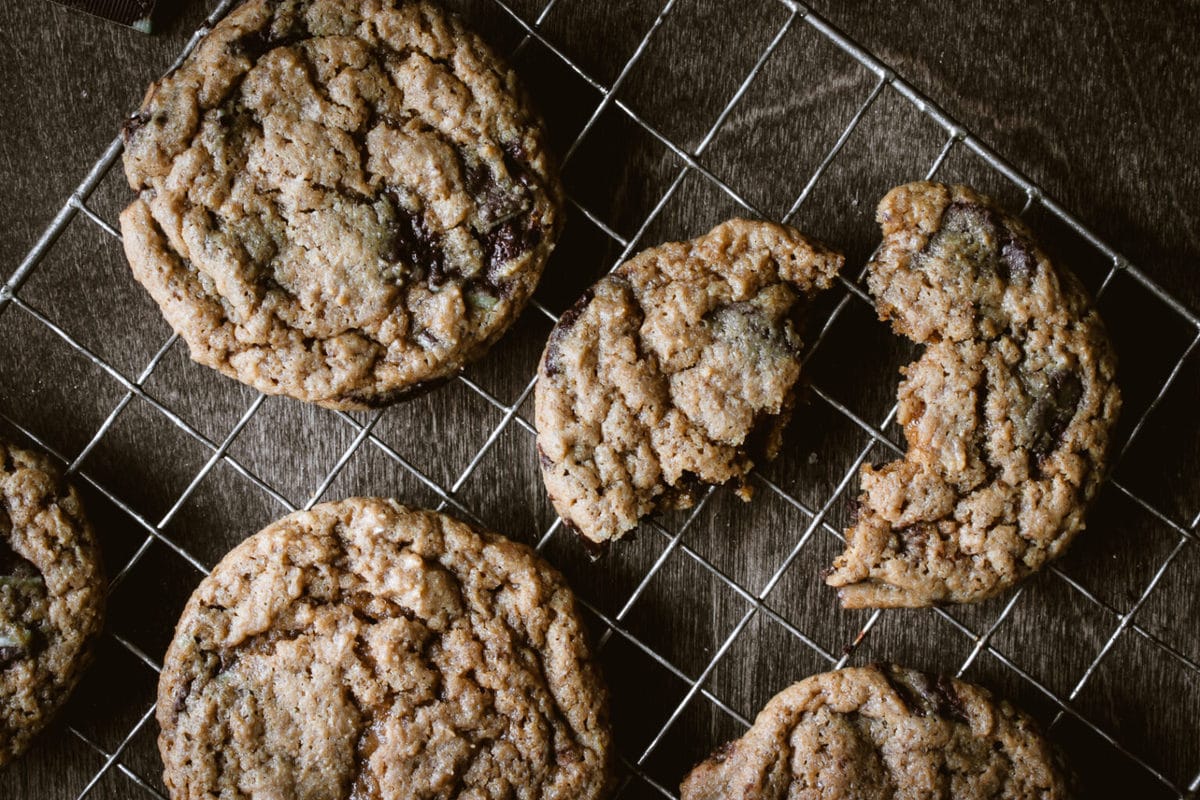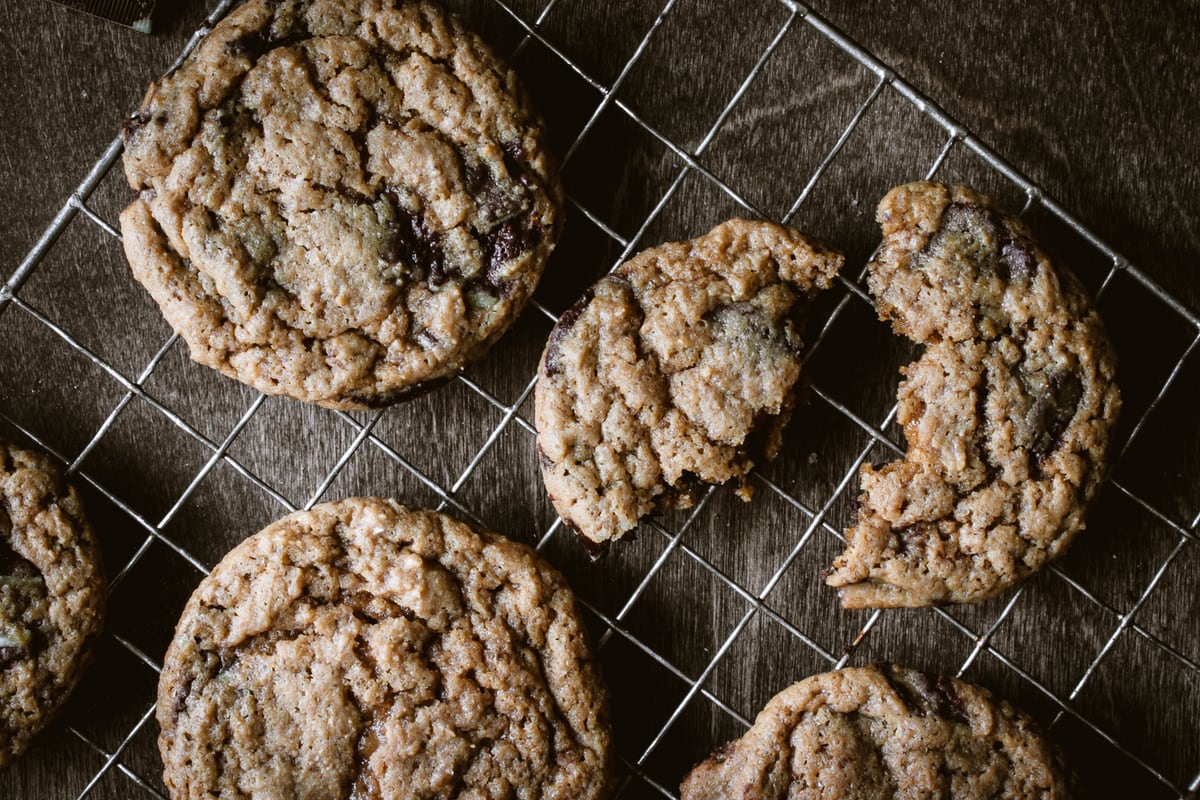 So, I lamented and went out and bought the "real thing." While the first pass of these cookies caused me to pause, the moment I took a bite I understood the hype around them. They are truly Andes Mints in cookie form as they have no adornment with extra peppermint extract or chocolate. Nor do they need it. These cookies have the perfect balance of sweetness even with the candy-laden center and are so irresistibly soft that the cookie has no choice but to make your mouth water and instantly melt. It is pure joy and nostalgia, in cookie form.
Now, I happily go down the candy aisle and add a few bags of Andes mints just to have on hand for these cookies and never regret it. Neither should you.
Possible Substitutions
WHOLE WHEAT FLOUR. Whole Wheat Flour can be substituted for All-Purpose Flour or 50% All-Purpose Flour and 50% Whole Wheat Flour.
ANDES MINTS. If you are looking for naturally flavored mint chocolate in lieu of Andes Mints, you can use a high-quality chocolate mint bar. Green & Black's Mint is a favorite of mine.
FAQ's about Andes Mint Cookies
Do I have to chill the dough?
A quick 15-minute chill in the refrigerator helps prevent these cookies from spreading too much during baking.
Can I freeze Andes Mint Cookies?
Sure can. Roll the dough into 2-tablespoon balls, place them 1/2-inch apart on a sheet pan, and put the sheet pan in the freezer until the dough balls are frozen (about 2 hours). Once the dough balls are frozen, store them in a bag in the freezer until ready to bake. Bake the dough balls straight from the freezer and add 1-2 minutes bake time.
Can I add more Andes Mints?
Yes, though be careful not to add too much as this is a drier dough.
How to Make Andes Mint Cookies
Whisk the flour, cocoa powder, baking powder, baking soda, and salt in a bowl. Add the butter and brown and white sugars to a separate bowl.

Beat the wet mixture until light and fluffy. Add the egg and mix until combined.

Scoop the flour mixture into the wet mixture and stir to combine.

Add the chopped Andes Mints and stir to combine. Cover and refrigerate the dough for 15 minutes.

Scoop into balls and bake.

Remove from the oven when still soft and let cool.
More Sweet Recipes to Try
Print
The Best Andes Mint Cookies
A cookie that tastes like a candy bar, in the best way possible. These Andes Mint cookies are soft, chewy, and melt in your mouth with every bite. Bet you can't just have one.
Author:
Prep Time:

20 minutes

Chill:

15 minutes

Cook Time:

24 minutes

Total Time:

59 minutes

Yield:

18

cookies

1

x
Category:

Dessert

Method:

Bake

Cuisine:

American
1 cup

plus 1 tablespoon (

140g

) whole wheat flour

1/2 teaspoon

cocoa powder

1/2 teaspoon

baking powder

1/4 teaspoon

baking soda

1/2 teaspoon

kosher salt

4 tablespoons

(

56g

) unsalted butter, at room temperature

1/3 cup

(

67g

) packed light brown sugar

1/4 cup

(

50g

) white granulated sugar

1

large egg

1 tablespoon

milk

9

, 9g pieces Andes Mints (

81g

), roughly chopped
Instructions
Preheat the oven. Adjust an oven rack to the middle of the oven. Preheat oven to 350°F (180°C). Line two baking sheets with parchment paper. 
Combine the dry ingredients. In a medium bowl, whisk the flour, cocoa powder, baking powder, baking soda, and salt together.
Beat the wet ingredients. In the bowl of a stand mixer with a paddle attachment or a large bowl with a hand mixer, cream the butter and the brown and white sugars on medium speed until light and fluffy, about 4 minutes. Add the egg and beat on medium speed until incorporated, about 2 minutes. Add the milk and mix at low speed until combined. Scrape down the sides and bottom of the bowl as needed. 
Make the dough. Add the flour mixture to the wet ingredients and mix at low speed until combined. Using a spatula, mix in the Andes Mints.
Chill the dough. Cover the dough with plastic wrap and refrigerate for at least 15 minutes, or longer.
Bake. Remove the dough from the refrigerator. Scoop the dough into 2-tablespoon (45g) balls and arrange them 2-inches apart on the baking sheets. Bake each sheet one at a time. Bake until the edges are light in color and the middle looks soft and gooey. Approximately 11-12 minutes bake time.  Remove the baking sheet from the oven and transfer the baking sheet to a wire rack and let the cookies cool completely on the baking sheet. 
Notes
WHOLE WHEAT FLOUR. If you opt to measure by volume instead of weight, whisk the flour first to aerate it, then spoon into a measuring cup, and then level it off with the back of a knife. 
BUTTER. I used room temperature butter that is 65 degrees Fahrenheit. If you don't have a thermometer, test the butter by placing your finger on the butter and pressing it down slightly. Room temperature butter will be cool to the touch and leave a slight indentation. If this sounds too fussy, cold butter will work fine if using a stand mixer (this will not work if using a hand mixer).
STORAGE. Store cookies in an air-tight container at room temperature for up to 4 days.
Nutrition
Serving Size:

1 cookie

Calories:

149 calories

Sugar:

12.7g

Sodium:

129mg

Fat:

6.9g

Saturated Fat:

4.2g

Carbohydrates:

21.1g

Fiber:

2.1g

Protein:

2.5g

Cholesterol:

19mg