Small Batch Buttermilk Biscuits
These small-batch buttermilk biscuits are incredibly buttery and flaky with the perfect kiss of salt and are ready in 30 minutes. Makes 4 biscuits!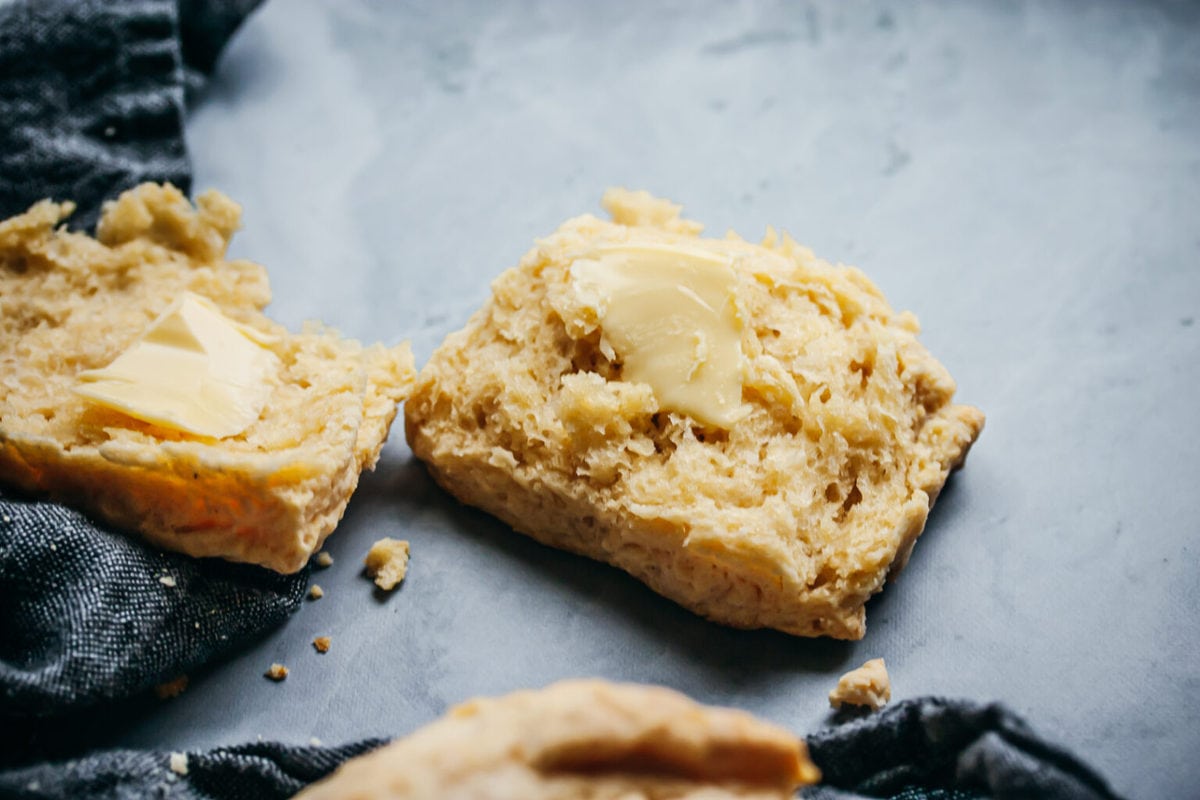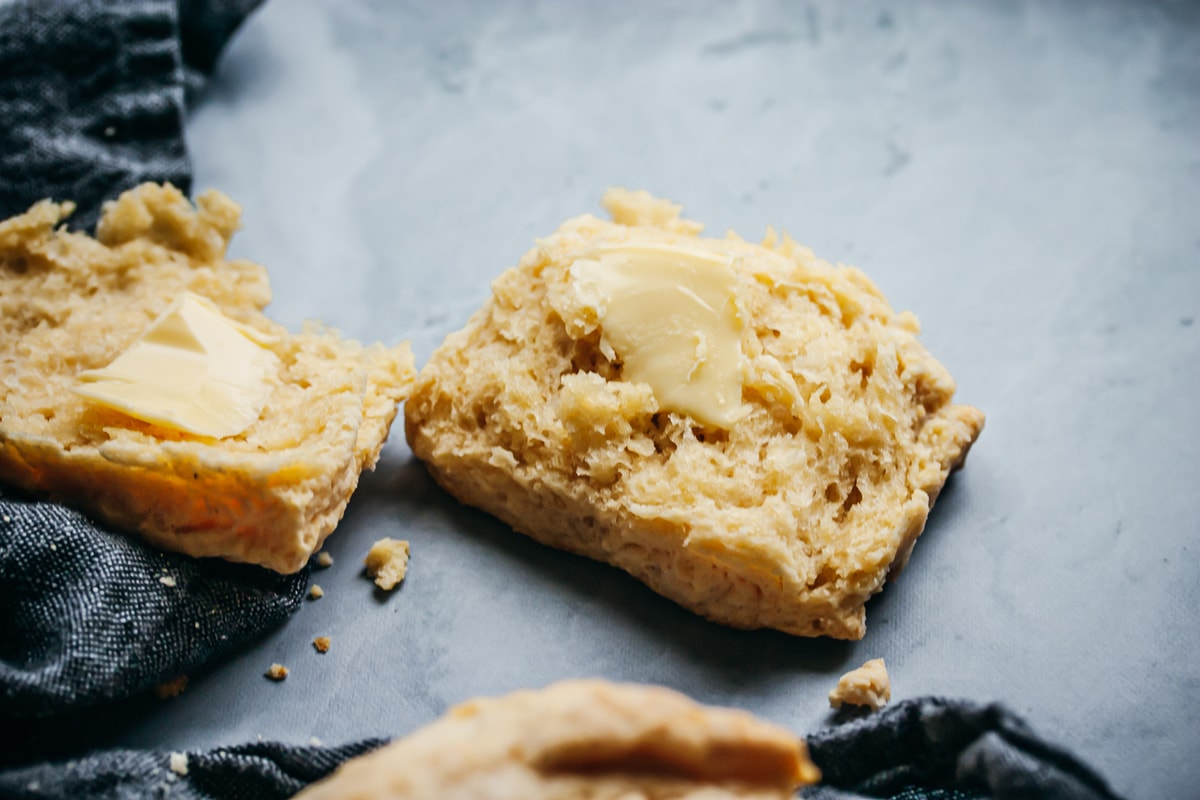 Let's get this straight. I'm in no position to give anyone advice about buttermilk biscuits. I didn't grow up in the South, and I hadn't made one until six weeks ago. What's the point? I thought as I stuffed an English muffin in the toaster, and 3 minutes later I walked away with a perfect breakfast. There is none.
Until I became obsessed with The Lost Kitchen series and saw Erin French make biscuits. I became perplexed and awed as I watched her cut biscuits in long rectangles, stack them, and then roll them out again. At the time, I wasn't familiar with the term "laminated biscuits" and began googling terms that were far from it. I finally landed on Alexandra's Kitchen Flaky Buttermilk Biscuits and saw how much work went into making them and decided that technique is for another day, or perhaps never.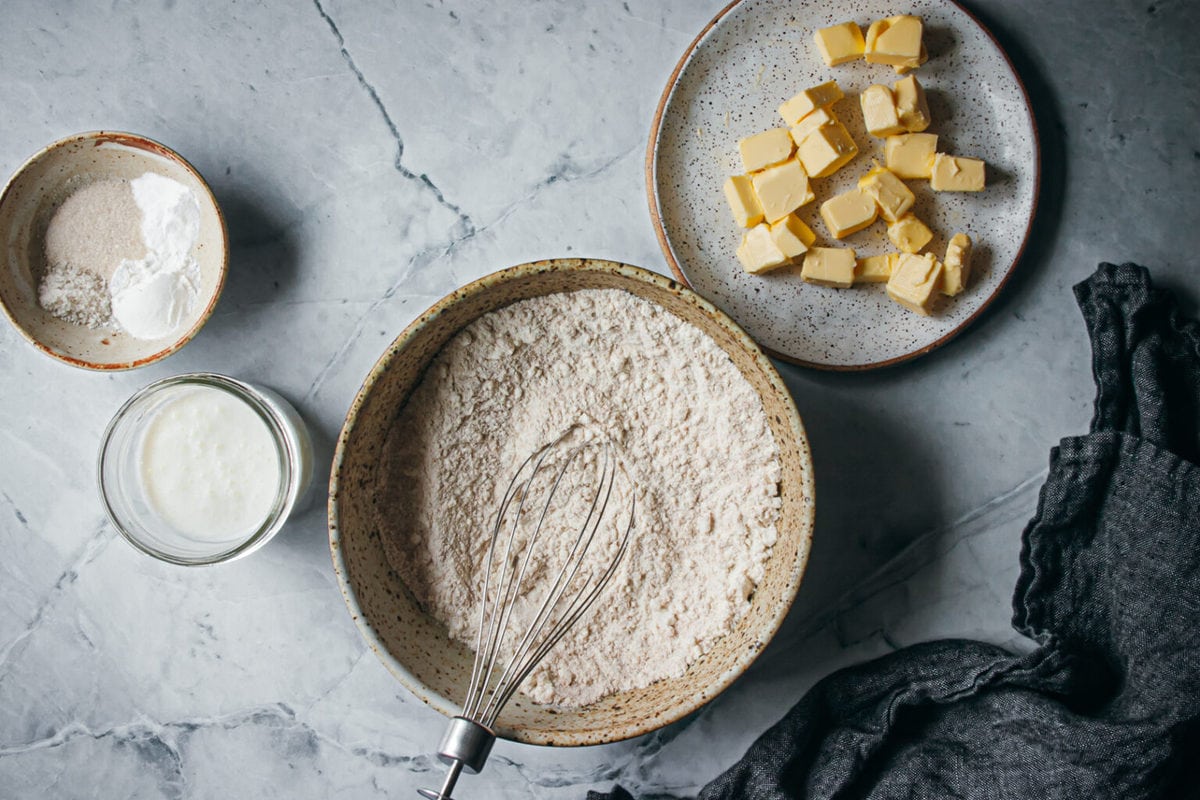 Did I give up on my biscuit expedition? No. I went to the Smitten Kitchen and thought "Deb is practical, there is no way she is making laminated biscuits at 7 am." And as I found out, she's not. Oh no, she went as rogue with her biscuits as I felt and my goodness were they buttery and flaky with the perfect hint of salt. I couldn't control my hand or taste buds as I kept shoving the biscuits in my mouth.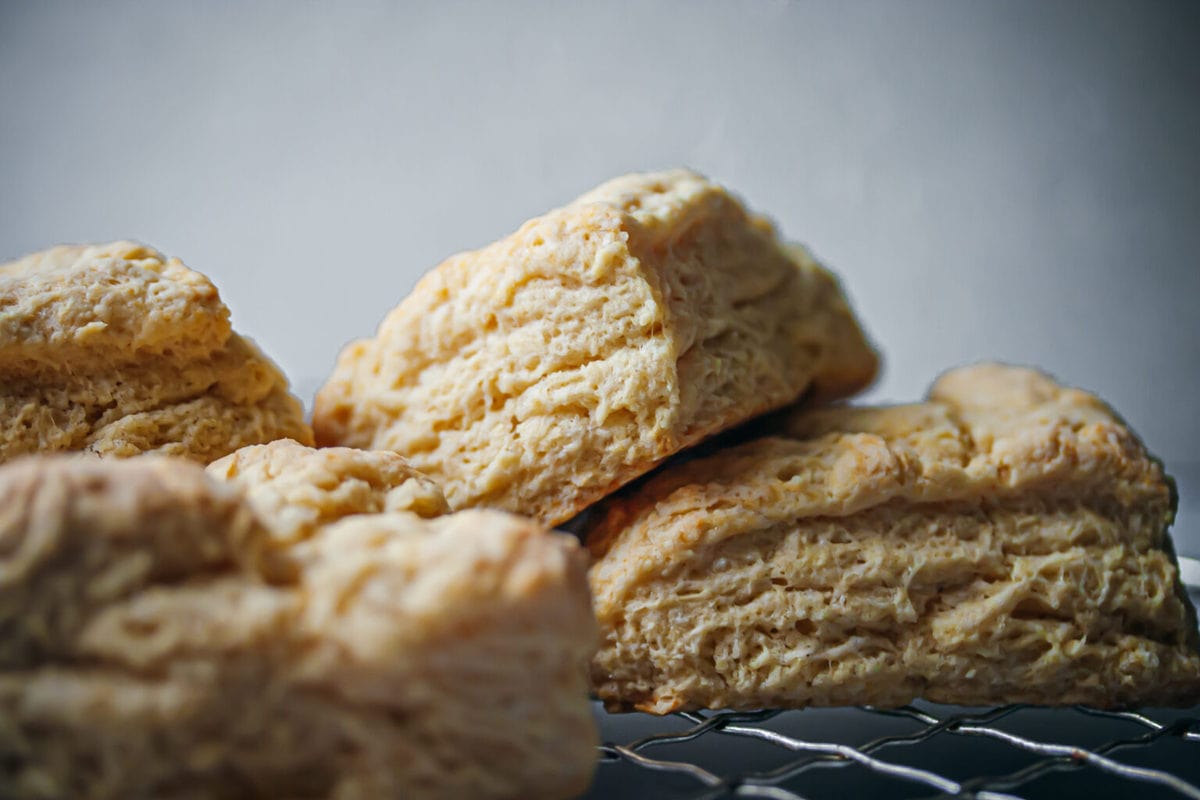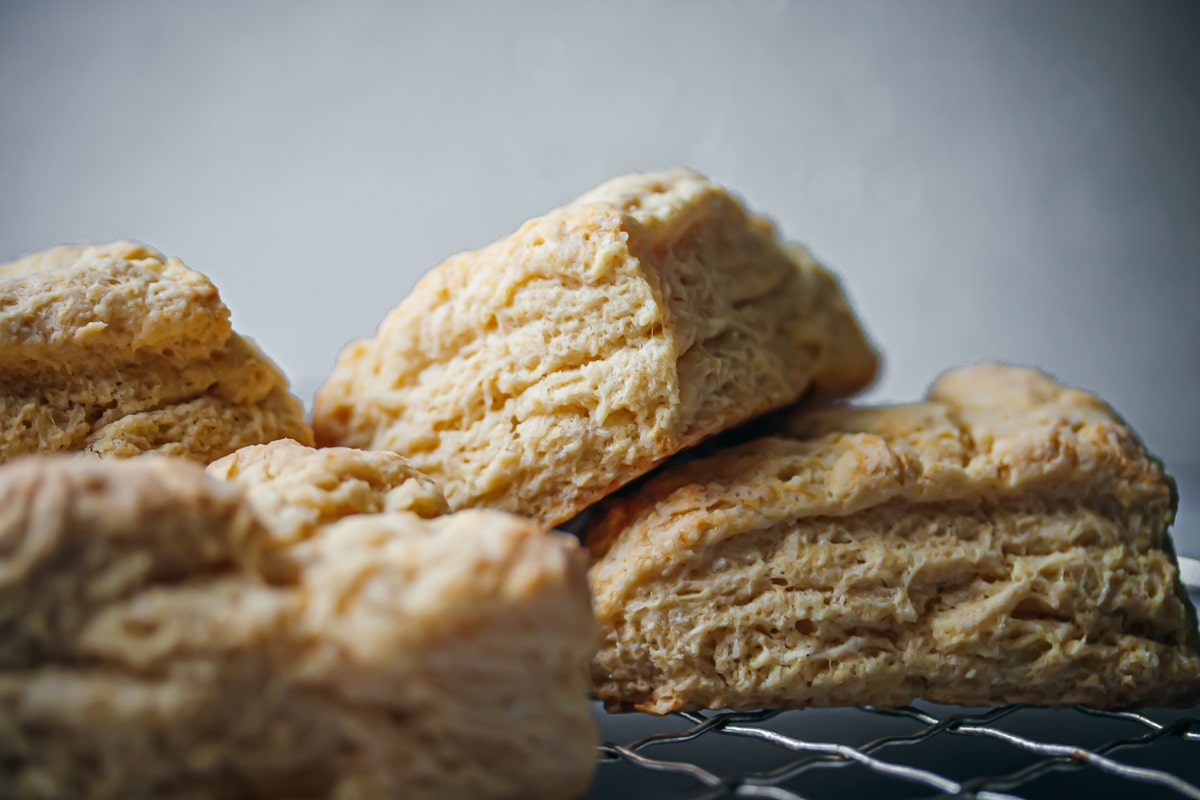 As I lay down with a full belly, I realized there was one problem. Deb's recipe made too many. Since she already decreased the batch, decreasing her batch by 1/2 was a painstaking experiment. There comes to a point where things go array when halving a recipe, and I hit it. So, I tested (aka played) until I finally got a small batch of 4 superbly flaky biscuits with perfectly browned tops. They now make a repeat (aka weekly) appearance in my kitchen, preferably as an egg sandwich, though you do you.
Possible Substitutions
BUTTERMILK. A combination of milk and vinegar works great.
ALL-PURPOSE FLOUR. If you want a heartier biscuit, substitute 1/4 to 1/2 cup of all-purpose flour for whole wheat flour.
How to make Small Batch Buttermilk Biscuits
Whisk together the dry ingredients

Add the cold butter and cut the butter into the flour mixture using a pastry cutter or the back of a fork.

Add the buttermilk.

Stir the mixture until large clumps of dough form.

Lightly knead the dough in the bowl until a large dough ball forms.

Turn the dough onto a work surface and pat it into a rectangle.

Cut the rectangle into 4 equal sections. Brush the tops with buttermilk and transfer the pieces to a prepared baking sheet.

Bake until golden and let cool slightly on a cooling rack (affiliate link). Serve warm.
Before you Begin: Tips for Making the Best Buttermilk Biscuits
USE A SCALE. If you use cups to measure flour, you'll likely have more or less flour than what the recipe calls for and will need to adjust the amount of buttermilk to obtain the correct texture and consistency. To avoid this, I recommend you use a scale.
USE COLD INGREDIENTS. Use cold butter and buttermilk straight from the refrigerator, work quickly, and don't overhandle the dough (your hands are probably warm!). Here, I use a pastry cutter, though a food processor or a fork works great as well. Since there is no chill step, make sure you have 15 uninterrupted minutes to get the dough made and in the oven for the best results.
CHOOSE THE BISCUIT SHAPE. For a no-fuss biscuit, cut them into rectangles or squares as I did here. A biscuit cutter also works, though you will have to reshape the dough after cutting the first two biscuits. For a completely carefree approach, you can make drop biscuits by scooping the dough in 1/4-cup portions on the baking sheet.
REMEMBER TO BRUSH. Brush the tops of the biscuits with buttermilk or an egg wash to help encourage extra browning on the tops. For a sweet and salty twist, sprinkle with turbinado sugar, though this is completely optional.
CHECK THE BOTTOMS. If you find that the bottoms of the biscuits are browning too fast, stack two sheet pans on top of one another when baking to prevent over-browning the bottoms.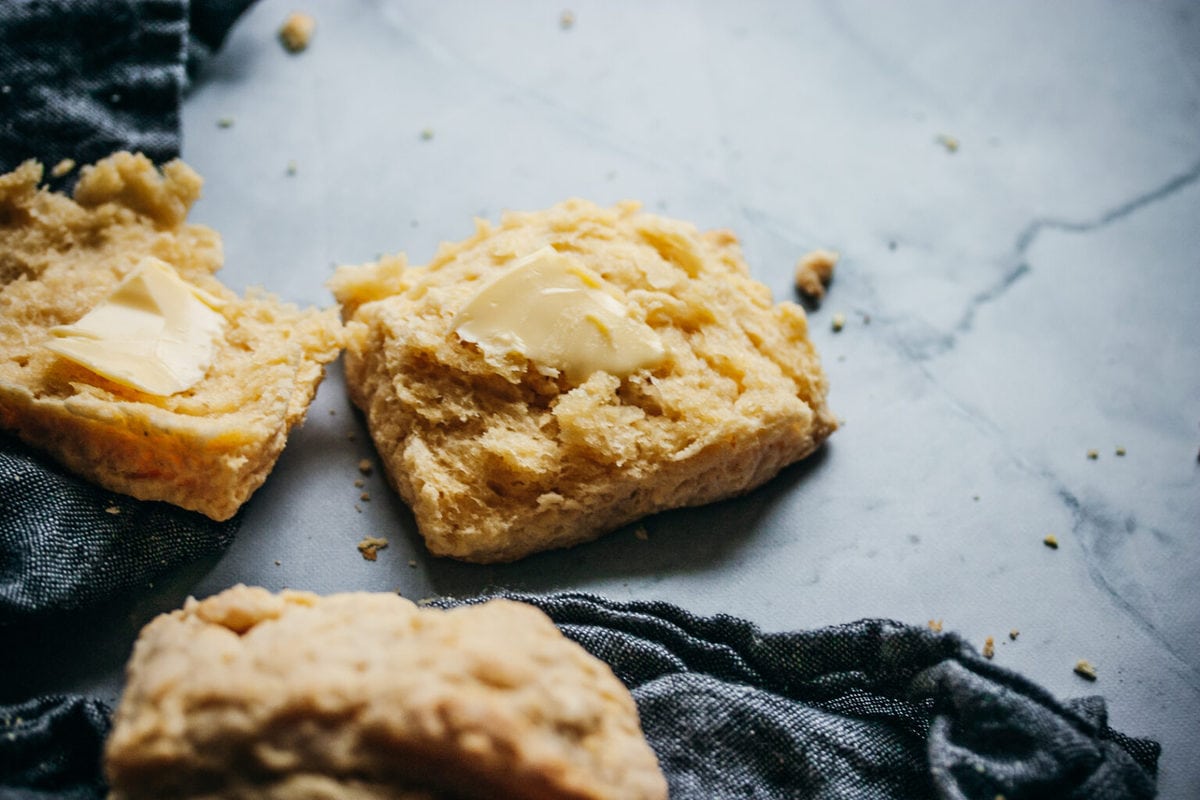 Looking to use up a carton of Buttermilk? Try these recipes.
Print
Small Batch Buttermilk Biscuits
These small-batch biscuits are incredibly buttery and flaky with the perfect kiss of salt and are ready in 30 minutes. Makes 4 biscuits.
Author:
Prep Time:

15 minutes

Cook Time:

16 minutes

Total Time:

31 minutes

Yield:

4

biscuits

1

x
Category:

breakfast, side dish

Method:

Bake

Cuisine:

American
1 cup

plus 1 tablespoon (

140 grams

) all-purpose flour

1 teaspoon

white granulated sugar 

1.5 teaspoons

baking powder

1/4 teaspoon

kosher salt

1/4

plus 1/8 teaspoon baking soda

4.5 tablespoons

(

63 grams

) unsalted butter, fridge-cold, cut into small chunks

1/3 cup

plus 2 teaspoons (

90g

) buttermilk, fridge-cold, plus more for brushing*
Turbinado sugar, for sprinkling, optional*
Instructions
Preheat. Position the oven rack in the middle of the oven and preheat the oven to 350°F (170°C). Line a baking sheet with parchment paper. 
Make the dough.  In a large bowl, combine flour, baking powder, baking soda, salt, and sugar. Lightly fluff the flour mixture with your hands until all of the ingredients are uniformly distributed, about 5 times. Add the cold, diced butter to the flour mixture. Pinch the butter into the flour mixture using a fork or a pastry blender (affiliate link) until the butter is the size of peas, about 5 minutes. Add the buttermilk to the flour mixture, and use a wooden spoon to mix the dough until large clumps form, about 2 minutes. Using your hands, lightly knead the dough in the bowl to incorporate any dry bits leftover at the bottom of the bowl and form a uniform mass. 

If the dough looks too crumbly, add another drizzle of buttermilk and knead to combine.

Form the biscuits. Dump the dough onto the parchment-lined baking sheet. Using your hands, pat the dough into a 4-inch x 2-inch x 1 1/4-inch rectangle. Using a sharp knife, cut straight down (no twisting or going back and forth) through the middle of the rectangle, and again crosswise through the center. You should have 4 equal rectangles. Alternatively, use a 2-inch biscuit cutter and press straight down without twisting to form 2 biscuit rounds. Reshape the dough and use the biscuit cutter to form 2 more biscuit rounds.
Top the biscuits. Place the biscuits 2-inches apart on the baking sheet. Brush the tops of the biscuits with buttermilk and, for a sweet and salty kick, sprinkle with turbinado sugar. 
Bake the biscuits. Bake until the top is golden brown, about 16 minutes. Remove the baking sheet from the oven and transfer the baking sheet to a wire rack and let the biscuits cool on the baking sheet for 5 minutes.
Serve. Serve warm with jam, butter, honey, or as an egg sandwich. 
Notes
Recipe slightly adapted from Smitten Kitchen My Favorite Buttermilk Biscuits and Alexandra's Kitchen Flaky Buttermilk Biscuits. 
FLOUR. If you opt to measure by volume instead of weight, whisk the flour first to aerate it, then spoon into a measuring cup, and then level it off with the back of a knife. 
BUTTERMILK SUBSTITUTE. Combine 1 tablespoon of apple cider vinegar with 1/3 cup milk and let the mixture sit until the milk looks curdle-like, about 3 minutes.
TURBINADO SUGAR. If making an egg sandwich, I recommend skipping the turbinado sugar.
STORAGE. Biscuits are best the day they are baked, though they can be reheated in the oven the next day. See "DO AHEAD" to make this more doable. 
DO AHEAD. Spread the raw dough squares on a sheet pan, and put the sheet pan in the freezer until the dough is frozen (about 2 hours). Once the dough squares are frozen, store them in a bag in the freezer until ready to bake. Bake the biscuits straight from the freezer and add an additional 3-4 minutes to the total baking time. 
Nutrition
Serving Size:

1 biscuit

Calories:

248 calories

Sugar:

2.4g

Sodium:

279mg

Fat:

13.2g

Saturated Fat:

8.2g

Carbohydrates:

28.9g

Fiber:

1.2g

Protein:

4.6g

Cholesterol:

36mg
Keywords: small batch biscuits